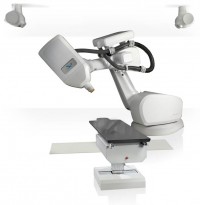 The CyberKnife® Robotic Radiosurgery System is a non-invasive alternative to surgery for the treatment of both cancerous and non-cancerous tumors anywhere in the body, including the prostate, lung, brain, spine, liver, pancreas and kidney. The treatment – which delivers beams of high dose radiation to tumors with extreme accuracy – offers new hope to patients worldwide.
The CyberKnife treatment process involves no cutting. In fact, the CyberKnife System is the world's first and only robotic radiosurgery system designed to treat tumors throughout the body non-invasively. It provides a pain-free, non-surgical option for patients who have inoperable or surgically complex tumors, or who may be looking for an alternative to surgery.
The CyberKnife® System differs from conventional surgery in several ways:
The CyberKnife® System utilizes image-guidance software to continuously adjust treatment for any patient or tumor movement.
It does not require patients to remain in place, but relies on high-tech tracking software which provides a comfortable, non-invasive treatment.
The CyberKnife® System can treat a broad range of tumors throughout the body.
It can treat the tumor with radiation without affecting healthy tissue.
To learn more visit cyberknifemercy.com, or call (305) 285-2923.