More than 1,400 babies are born each year at Mercy Hospital. Our new, elegantly remodeled maternity wing offers gracious, private birthing suites and spacious private postpartum suites with stunning views of Biscayne Bay. Every redesigned detail exists to ensure this important life moment is as beautiful as it is special.
Our specially designed birthing suites, also known as Labor and Delivery Rooms (LDR), offer the latest technology in a comfortable, safe and welcoming environment for mother and child alike. Each LDR is equipped with a birthing bed that allows for labor, delivery and recovery to take place in the same room. Anesthesiologists are available round the clock to see to your needs. Some of South Florida's leading perinatologists (maternal–fetal medicine specialists) are available should the need arise. Mercy's specially trained labor and delivery nurses utilize computerized bedside charting, which allows for closer and frequent monitoring of the patient and efficient documentation. Mercy Hospital is committed to the health of both child and mother. Our Level II Neonatal Intensive Care Unit, our special care nursery and an expert neonatologist are ready for any possibility, 24 hours a day.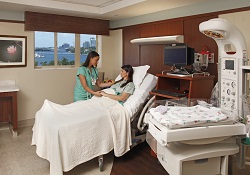 After the birth of your baby, you and your family will enjoy a spacious private postpartum suite overlooking beautiful Biscayne Bay. Our welcoming and well–appointed accommodations will envelop you, your newborn and all family members in private luxury. You will find our suites furnished with television, WIFI access and other amenities to make your experience a memorable one. Your care and that of your baby's, will be guided by a knowledgeable and caring staff of medical professionals that include certified nurses and board certified obstetricians that understand family centered care. Mercy Hospital's Labor & Delivery, Nursery and Maternity team strives to provide the support and information needed during this very exciting, yet sometimes overwhelming time.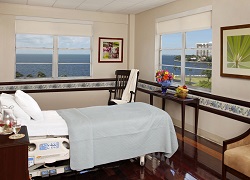 Would you like to schedule a tour of our facility? Please call 305-285-2956 to schedule a tour at your convenience.
We offer a variety of important and informative classes for parents-to-be and new parents, from childbirth preparation to our infant massage class. Our Lactation Center offers private breastfeeding consultations during you stay and are also available when you are home with your newborn.
Lactation Services
After the birth of your baby, the Lactation Center provides private breastfeeding consultations, breast pump sales and rental, and other specialized products. For more information on the Lactation Center, please call 305-446-BABY (2229).
Prenatal Education
As an expectant parent, you probably have thousands of questions. Even if you are already a parent, you may feel the need for a "refresher course." Mercy Hospital offers classes on everything from deciding to have a baby to delivery and beyond – whether you're a parent–to–be or a new grandparent.
Class Calendar and Registration
View our current childbirth education schedule and register online, or call (305) 285-2770. Office hours are from 10:00 a.m. to 4:00 p.m., Monday through Friday.
Expand All
Collapse All
Evening Childbirth Preparation Classes
(Three-week series, $150 per couple)
This package is designed to be all inclusive, providing information, support and skills for the expectant couple.
Class 1: So you are pregnant, NOW WHAT!
Preparing mind and body for you birth
Class 2: The Advantages and Disadvantages of breastfeeding
Guest speaker: Transition into parenting
Medical interventions: Inductions, Cesarean Section and Hospital Tour
Guest speaker: Mercy Hospital Anesthesiologist
Class 3: Getting Ready to welcome your Baby and Postpartum care.
Guest speaker: Q∓A with community Pediatrician
Also includes the:
Infant CPR and Home Safety (Thursday night)
Prenatal Breastfeeding Class (Thursday night)
Saturday Childbirth Preparation Workshop
(One 7-hr session, $75 per couple)
This program is a condensed version of the 3 week series. Also includes the:
Infant CPR and Home Safety (Thursday night)
Prenatal Breastfeeding Class (Thursday night)
Preparation for Planned Cesarean Birth
(Two-week series, $150 per couple)
This class is designed to educate parents on what to expect for a surgical birth, postpartum and newborn care. A hospital tour of labor and delivery, nursery and post-partum units is also included along with a session with guest speaker and a community pediatrician.Also includes the:
Infant CPR and Home Safety (Thursday night)
Prenatal Breastfeeding Class (Thursday night)
Infant CPR & Home Safety
(Single Class, $50 per couple)
Step-by-step infant CPR instructions are given, plus simple precautions for a hazard free home for your new baby is done by Safer Kids and Homes, Inc. facilitator Patti Laird.
Prenatal Breastfeeding class
(Single class if not taking package $50 per couple)
This class will provide invaluable information with an emphasis on overcoming difficulties, calming the newborn, understanding newborn feeding cues and the truth about breast pumps. Fathers are strongly encouraged to attend.Learn about the following on breastfeeding:
The advantages and disadvantages of breastfeeding.
What to expect the first couple of weeks.
The anatomy and physiology of lactation.
The components of breast milk.
The different types of breast feeders.
How the baby will latch-on and positioning.
How to know if your baby is getting enough to eat.
Postnatal Education
Class Calendar and Registration
View our current postnatal class schedule online, and call call 305-446-BABY (2229) to register. Office hours are from 10:00 a.m. to 4:00 p.m., Monday through Friday.
Expand All
Collapse All
Home with Baby Classes
(One – 1 ½ hours session, $5 per class)
These classes are especially for mothers who want to enhance their parenting skills. The underling purpose is to help all mothers to develop a parenting style that is right for their family. Classes are separated into age appropriate formats; from birth to toddlers, this helps to enhance learning about your baby's developmental stages.
Different age appropriate classes:
Birth to 3 Months Support Group
4-8 Months Support Group
9 months to walkers
Toddler Support Group
Infant MAssage
Some of the topics include but are not limited to:
Week one – Parenting
Week two – Returning to Work
Week three – Solid Foods
Week four – Dental health and weaning
Week five – Open Forum
Infant Massage
(Four-week series, $80 per series)
Infant massage is a form of intimate communication between parent and child. Parents communicate using touch, expressions and voice. Infant massage does not require sophisticated equipment, toys or experience. It can take place during several infant routines, such as bathing and diaper changing. It also teaches mothers and infants how to relax. It helps the parent to understand their baby and can help meet the infant's needs. Appropriate developmental milestones are discussed and encouraged. Instructor Cristina Pachecho.