Mercy Hospital features an accredited Level II Neonatal Intensive Care Unit, equipped to provide a high level of comprehensive intensive care for newborns directed by a highly recognized group of nationally certified neonatologist. The neonatal unit is adjacent to the Labor and Delivery Unit, so no critical time is lost transporting the newborn. Additionally, the close proximity allows both the parents and attending physician to receive prompt information on the baby's condition and affords the parents peace of mind knowing their baby is nearby.
The unit is staffed by affiliated neonatologists, neonatal nurse practitioners and specially trained neonatal nurses. The staff recognizes the need for parents to be involved in their baby's care and provides them with support whenever possible. Parents have 24-hour access to the neonatal unit.
The staff takes pride in offering babies and their parents a full-range of supportive therapies and services including, kangaroo care, skin-to-skin contact, early breastfeeding with lactation consultations, occupational therapy, physical therapy, massage therapy and social services support.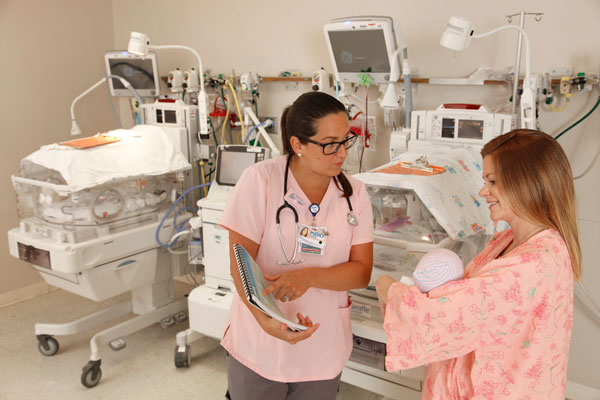 Our Neonatal Intensive Care Unit (NICU), provides caring and highly specialized care your baby needs.
Our first priority is taking care of your baby and family.