Birthing center in Miami-Dade County
In the maternity wing at Mercy Miami Hospital, you can trust our expert practitioners to provide a continuum of care throughout your pregnancy, from preparing for childbirth to heading home with your newborn. We offer customized labor and delivery services and comfortable amenities to ensure your childbirth experience is everything you want it to be.
For more information on our labor and delivery suites, or to schedule a tour at your convenience, call (305) 860-5220.
Labor and delivery experience you can trust
Each year, close to 1,500 children are born at Mercy Miami Hospital. Our team is committed to providing the support and education parents need during this very exciting, yet sometimes overwhelming, time. Parents in the Miami area choose us as their maternity hospital for:
A knowledgeable and compassionate staff of medical professionals that includes board-certified obstetricians and certified nurses who understand family-centered care
Computerized bedside charting, which allows for closer and frequent monitoring of the mother-to-be during labor and more efficient patient tracking throughout your stay
Skilled anesthesiologists who are available round the clock to see to your needs
Expert prenatal care, including helpful childbirth classes and preparation workshops
Access to some of South Florida's leading perinatologists (maternal fetal medicine specialists) available, should the need arise
Our labor and delivery suites
Our elegantly remodeled maternity wing offers private birthing suites and spacious private postpartum suites with stunning views of Biscayne Bay to make this important life moment is as beautiful as it is special.
These labor and delivery rooms (LDRs) offer a comforting environment while providing high-quality care for expectant mothers. Each LDR is equipped with a birthing bed that allows for labor, delivery and recovery to take place in the same room.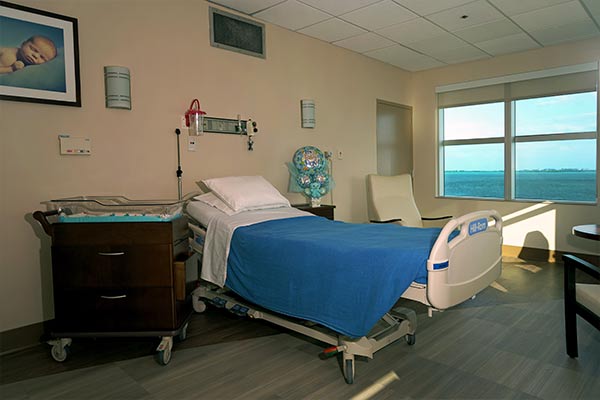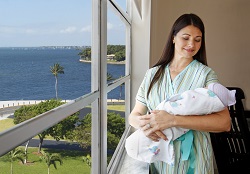 Postpartum care
Our maternity services don't end once you meet your baby—our postpartum care starts once you are transitioned into one of our private postpartum suites where you can get to know your little one and begin recovery. We also provide you with a wealth of information, including how to bathe, feed and dress your newborns, so you can feel confident as a parent when you are ready to go home.
For more information about our labor and delivery services, call us at (305) 285-2770.
Dedicated neonatal care team
Sometimes newborns need extra attention due to medical condition or complications during childbirth. Our accredited Level II Neonatal Intensive Care Unit (NICU) is staffed by neonatologists, neonatal nurse practitioners and specially trained neonatal nurses ready to provide expert, gentle care to your little one, if needed.
Our neonatal team recognizes the need for parents to be involved in their baby's care. Parents have 24-hour access to the NICU to ensure they feel connected to their children.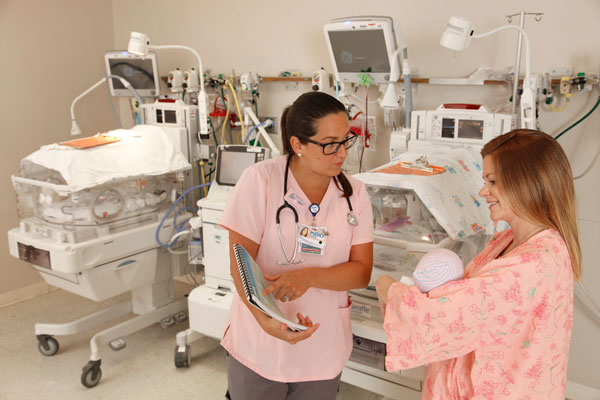 Specialized care for your baby's needs
The NICU team takes pride in offering newborns and their parents a full range of supportive therapies and services, including:
Kangaroo care (offers skin-to-skin contact for the newborn, which is critical during infancy)
Breastfeeding support from lactation consultants
Occupational therapy
Physical therapy
Massage therapy
Social services support
Labor and delivery locations
Retrieving location data...