Postpartum care in Miami, Florida
At Mercy Miami Hospital, we guide and support families throughout the childbirth process and beyond. This means we provide care for the health and well-being of mothers and newborns starting after delivery and into the initial weeks after returning home, whether you are a new mom or a mom once again.
For more information about our postpartum care, call our Consult-A-Nurse® team at (305) 285-2929.
What to expect during your postpartum stay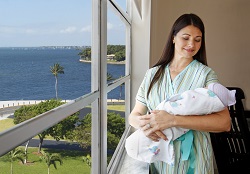 After labor and delivery, moms are moved to one of our spacious private postpartum suite with views of the Biscayne Bay and in-room sleeping accommodations for Mom's partner. Our welcoming and well-appointed accommodations will envelop you, your newborn and all family members in private luxury. You will find our suites furnished with television, wi-fi access and other amenities to make your experience a memorable one.
During your time with us after childbirth, we are there to address your needs as you recover and are getting to know your baby. Our experienced nurses will educate you on how to bathe, feed and dress your newborn, review infant health and safety care and answer any parenting questions you may have. If you choose to "room in", your baby can stay in the room with you throughout your hospital stay.
Our goal is that all families leaving our hospital feel confident and prepared to care for their infant once they are home.
Breastfeeding support
The Lactation Center at Mercy provides private breastfeeding consultations, breast pump sales and rental and other specialized products, so that expectant mothers are prepared for feeding their newborn. In addition, Mercy's lactation consultants provide individual, bedside assistance for breastfeeding mothers who may need extra support as they learn to breastfeed.
For mothers who need help with breastfeeding after discharge, our postpartum and lactation support services are available Monday through Friday, 10 a.m. to 4 p.m.
For more information on the Lactation Center, please call (305) 446-BABY (2229).
Birth certificate and Social Security number
During your hospital stay, the Medical Records Department will gather the information needed to register your baby's birth. You'll be given forms and information that will enable you to obtain a copy of your baby's birth certificate and Social Security card. You may also visit the Florida Department of Health to obtain information about ordering your child's birth certificate online.
Hospital discharge
Care after delivery is a dynamic process. Women are no longer remaining in the hospital for extended periods of time after childbirth. With your doctor's approval, you will probably be discharged within 48 hours after delivery. During this time, you will be actively involved in your care and the care of your infant.
Be sure to check with your insurance company to see exactly how many days will be covered for you and your baby during the hospital stay.
Taking your baby home
Your discharge will be coordinated by your OB/GYN and your nurse. Prior to leaving the hospital, your nurse will provide you with final instructions on how to care for yourself and your baby. When you're packed and ready to leave, you'll be escorted to your car for the trip home.
Car seat
State law requires that infants 40 pounds or less must ride in a car seat. This includes your trip home from the hospital. We recommend that you purchase a car seat ahead of your due date, so you can become familiar with its operation. Be sure to purchase a car seat specifically designed for infants weighing less than 20 pounds.
Postpartum care locations
Retrieving location data...